Autonomous Mobile Robot
Autonomous Mobile Robot (AMR) is a moving robot to deliver materials in factories, warehouses, parking towers or any unmanned handling applications. It is often navigated by wires, markers on the floor, laser, computer vision, or GPS. Our Fanless Embeddedd System is your smart & powerful AMR/AGV engine to make this all-in-one integrated intelligent material handling solution possible.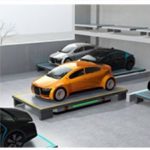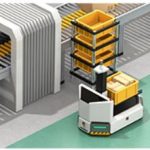 Real-time Artificial Intelligence (AI) Computing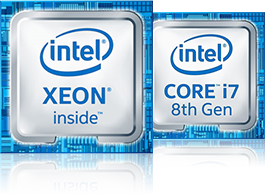 Delivers outstanding system productivity to handle real-time artificial intelligence (AI) computing tasks.
Workstation-grade Platform : Intel® Xeon®/Core™ i7/i5/i3 processor running with Intel® workstation-grade chipset, dual-channel DDR4 2133MHz ECC/Non-ECC memory.
High-speed System Operation : Multiple 10GigE LAN (10Gbps), 10G SFP+ LAN (10Gbps), PCIe 3.0 (8GT/s), SATA III (6Gbps), USB 3.0 (5Gbps), PoE+ (1Gbps) and GigE LAN (1Gbps).
Seamless Wireless Data Transfer : Supports multiple WiFi, 4G, 3G, LTE, GPRS or UMTS.
All-in-one Compact Solution
Features compact integrated functions with flexible product offering to meet innovative requirements for your AGV applications.
Small Form Factor : Limited space integrates workstation-grade 6-core processor and chipset, max 9 GigE LAN, 6 USB 3.1, 4 COM, 2 SSD trays, SIM sockets, CFast socket, M.2 sockets, remote manage ment and smart system protection functions.
Versatile Product Configurations : Multiple high-reliable GigE LAN support IEEE 802.3at PoE+ and iAMT, front-access 2.5" SSD/HDD trays support up to 4TB, Isolated DIO.
Flexible Expansion Functions : Multiple PCI/PCIe or full-function SUMIT A, B for multiple 10GigE LAN, 10G SFP+, SIM sockets, GigE LAN, GigE Fiber LAN, PoE LAN or Video Capture expansion functions.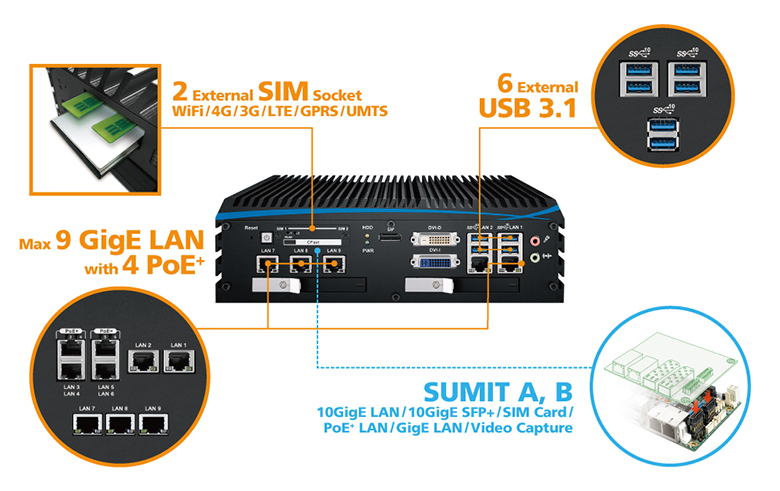 Trusted System Reliability in Harsh Environments
Serves rugged reliability to keep AGV real-time computing in factory, warehouse, outdoor or any harsh environment with no system downtime.
Fanless design for Wide-range Operating Temperature : High-reliable fanless design, -40°C to 75°C extended temperature for workstation-grade system operation.
Smart Power Protection : 6V to 36V DC-in with 80V Surge Protection, Ignition Power Control.
Qualified Standards : E13, EN50155, EN50121, CE & FCC Certification.